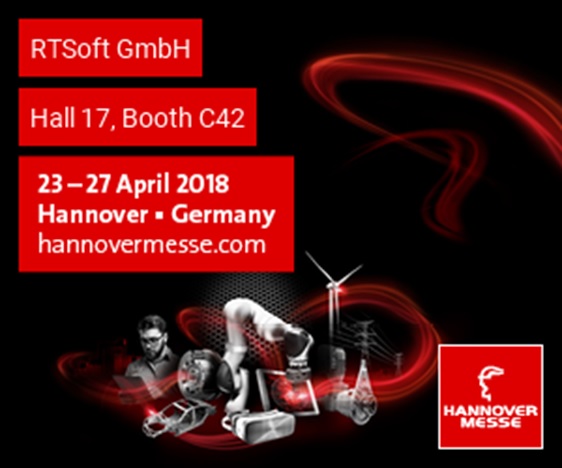 Join RTSoft at Hannover Messe-2018 to experience innovation first-hand. The world's most renowned industrial tradeshow will take place in Hannover on April 23-27. Visit us at Booth C42 Hall17.
RTSoft experts will present our software and IoT services, including:
Industrial IoT

PLCs software

SCADA applications

Integrated automation
We will also showcase our comprehensive solutions for smart energy management:
Energy cost optimization

Investment feasibility study

Energy efficiency improvement

Energy supply systems control
This year RTSoft will be presenting at the booth of «Bayern Innovativ GmbH», our long-time partner. Visit Booth C42 Hall17 and experience our products first-hand! RTSoft is committed to your success, implementing the latest technology innovations, industry standards and agile project management to deliver unmatched services.
RTSoft is a leading company with more than 25 years of experience in developing smart software products for the energy sector. Wherever it is deployed: from LV substations to UHV power system control centers, it is aimed to make power management more reliable and intelligent. We welcome the opportunity to show you how our offerings can help you fulfil your goals.
To learn more, visit: http://www.hannovermesse.de/exhibitor/rtsoft/V997606.
We are looking forward to connecting with you at Hannover Messe 2018!