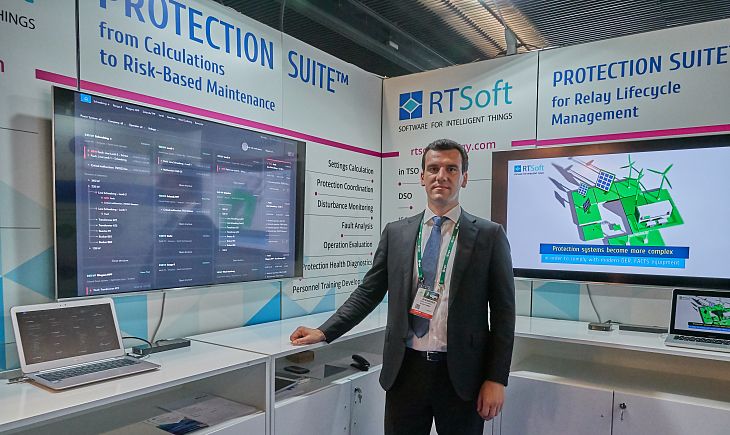 From 26 to 31 August 2018, the 47th session of CIGRE was held in the Paris Palais des Congrès. RTSoft GmbH took an active part in it.
The 47th Session of CIGRE featured the Technical Exhibition. In line with the new brand strategy, CIGRE, a non-profit and non-governmental association, is being transformed
from the International Council on Large Electricity Systems into the Global Community for Power Systems Experts. This concept was represented by the products, solutions and technologies displayed at the exhibition, covering all areas of both large and small power industry.
RTSoft GmbH participated in the exhibition with its own stand dedicated to the company's unique development—the Protection Suite software for risk-oriented control of relay protection
and automation (RPA) devices. The Protection Suite features simulation, calculation of setpoints, monitoring and analysis of correct operation, as well as detection of latent relay protection
and automation failures. Depending on the Customer's needs, these features are implemented both at the level of power facilities and at the level of SGC and dispatch centres.
The key feature of the Protection Suite is its versatility and extensive functionality, as well as
the utmost level of automation of RPA simulation and management tasks. According to the leading experts of RTSoft, who worked at the stand, the Protection Suite was notable for these features among other presented developments.
The peculiarity of RTSoft's Protection Suite is that it significantly enhances the reliability of RPA operation. The use of all available information on the operation of RPA devices in combination with detailed functional and logical models, and a database of settings allow organising
the maintenance of 'digital clones' for each terminal and creating a real basis for the transition
to RPA maintenance with consideration for its technical condition.
The importance of the RTSoft GmbH's proposal is confirmed by the interest of reputable RPA experts who visited the company's stand, including representatives of the B5 CIGRE Research Committee for Relay Protection and Automation, the PAC World conference magazine, as well as the world's major power grid companies and system operators.
The RTSoft GmbH's exhibition stand was also attended by experts from different countries
of the world, e.g. Germany, India, USA, China, Japan, Austria, Thailand, Israel, Canada, Brazil, Belarus and other countries. RTSoft GmbH's employees who worked at the stand noted a high efficiency and potential of the meetings and negotiations held.
The CIGRE-2018 exhibition revealed a genuine interest in the company's developments
and showed that the RTSoft GmbH solutions meet the highest global expectations. Thanks
to a number of unique characteristics, they can effectively solve the challenges facing the modern energy industry.